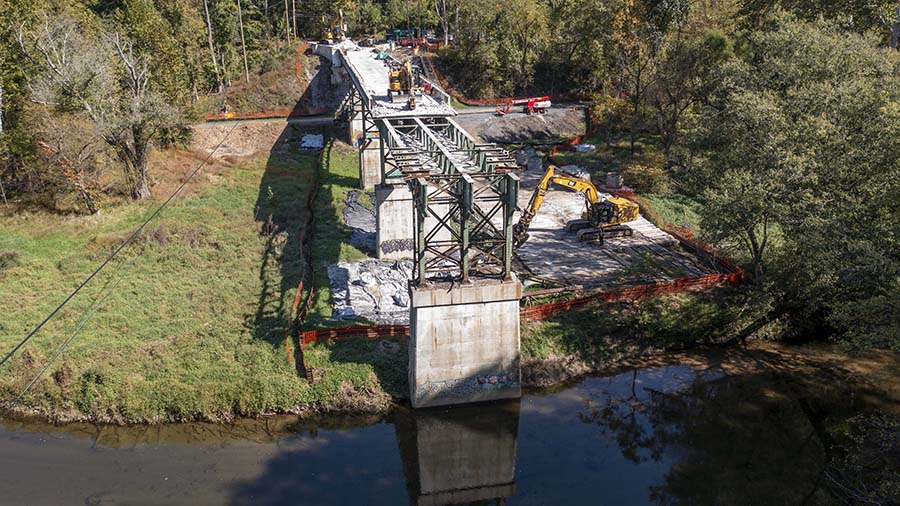 Phoenix Road Over Gunpowder Falls Bridge Replacement
Project Scope
This project, located in Baltimore County, is for the replacement of Bridge No. 6507 on Phoenix Road over Gunpowder Falls and associated roadway improvements. The existing structure is a six­ span, 432′-9″± long, steel deck truss bridge supported by reinforced concrete and stone masonry (assumed) abutments and stone masonry (assumed) wall piers. The bridge was originally built in 1922 and underwent rehabilitation in or about 1980. The associated roadway improvements include reconstruction of the bridge approaches, full-depth replacement of the roadway pavement along Phoenix Road north and south of the bridge and Philpot Road north of the bridge, and improvements to the Phoenix Road/Philpot Road intersection north of the bridge.
The project includes:
Maintenance of traffic consisting of installation and maintenance of signage for a traffic detour for the duration of the project.
Removal and disposal of the existing bridge in its entirety, including the existing stone masonry wing/retaining walls along the approaches adjacent to the bridge.
Replacing the existing bridge with a haunched steel plate girder and reinforced concrete deck bridge supported by reinforced concrete spread-footing abutments and drilled-shaft supported reinforced concrete piers. The replacement structure will be a 3-span, 431′-2″ long bridge on the same horizontal alignment as the existing bridge.
Construction of three reinforced concrete retaining walls on spread footing at three corners of the replacement bridge.
Removal and disconnection of the temporary traffic signal-in-place, on the existing bridge; all items to be returned to the City.
Maintenance and relocation of existing utilities which include underground and overhead BG&E electrical lines and underground Verizon telephone lines.
Relocation of existing Verizon telephone line from the existing bridge superstructure to the new bridge superstructure. The phone line will need to be maintained during construction.
Approximately 540 feet of full-depth pavement south of the bridge and 330 feet of full depth pavement north of the bridge along Phoenix Road.
Approximately 220 feet of full-depth pavement north of the bridge along Philpot Road.
I 0. New signing and pavement markings.
Installation of SCOOT standard drainage inlets along the bridge approaches.
Installation of Erosion and Sediment controls, Storm Water Management measures, and Maintenance of stream controls.
Landscaping within project limits.
Maintenance of pedestrian traffic along the paved NCR trail beneath the bridge, and reconstruction of approximately 800 feet of the trail following construction of the bridge.